Sanctuary Chairs

Fabrics
Looking for additional fabric selection? Download our digital fabric card! Some conditions apply. Contact us for more information.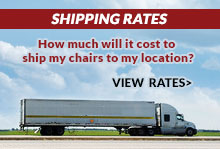 Valu Church Chair
COLORS: Maroon, Dark Blue, Charcoal, Khaki, Espresso
NO ASSEMBLY REQUIRED!
Steel Frame (1" Legs - 3/4" Back)
Plywood Seat / Back
Lumbar Support - Standard
T-Nuts" Throughout - Standard
CAL 117 Approved
Rated for 500 Lbs.
Fabric Card Pocket INCLUDED (5 ½" x 6")
15 Year Warranty on Frame
1 Year Warranty on Foam / Fabric
Dimensions : 20" W x 24" D x 34" H
Weight: 17 Lbs.
Stacked 5 High: Overall Height of 61"
Stacked 10 High: Overall Height of 95"
Comparing Apples to Apples.

Where was your foam measured?
We measure ONLY the part that you sit on. Others may not.

What's holding your chair together?
Using StaFast "Ultimate" T-nuts gives a metal to metal connection for superior holding power.

Who's standing behind your chairs?
The Empire Chair comes with a 25 year warranty on the frame!

Comfort level after 20 minutes
The Empire chair gives you 1½" of foam on the back, for long term comfort.

Out of sight, Really out of mind?
Plywood vs MDF. All Empire chairs come with plywood seat & back, not MDF, Press Wood, or Particle Board.

What's my total investment?
NO ASSEMBLY REQUIRED. Other manufacturers will give you a great price, but you supply the labor.