Sanctuary Chairs

Fabrics
Looking for additional fabric selection? Download our digital fabric card! Some conditions apply. Contact us for more information.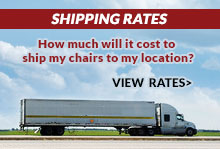 Empire DW Church Chair
COLORS: Mixed Tan, Medium Blue, Maroon
1" Steel Framework - Legs
3/4" Steel Framework - Backrest
Multiple Steel Cross Members
3" Dual-Density Cushion Seat Foam
Square Front (W) - Standard
Cushioned Wrap Around Back
Ganging Connection - Standard
100% Woven Polyolefin Upholstery
"T-nut" Assembly - Standard
CAL 117 (Foam / Fabric) / ANSI/BIFMA
Available in an Armed Model
Dimensions : 20" W x 24" D x 34.5" H
Weight: 20 Lbs.

Where was your foam measured?
We measure ONLY the part that you sit on. Others may not.

What's holding your chair together?
Using StaFast "Ultimate" T-nuts gives a metal to metal connection for superior holding power.

Who's standing behind your chairs?
The Empire Chair comes with a 25 year warranty on the frame!

Comfort level after 20 minutes
The Empire chair gives you 1½" of foam on the back, for long term comfort.

Out of sight, Really out of mind?
Plywood vs MDF. All Empire chairs come with plywood seat & back, not MDF, Press Wood, or Particle Board.

What's my total investment?
NO ASSEMBLY REQUIRED. Other manufacturers will give you a great price, but you supply the labor.